Are you looking to hire from outside of Canada?
The Partnership helps employers in using the Atlantic Immigration Program (AIP) and the Nova Scotia Nominee Program (NSNP) to support local workforce development.
Our one-on-one support helps you to become an "immigration-ready" employer.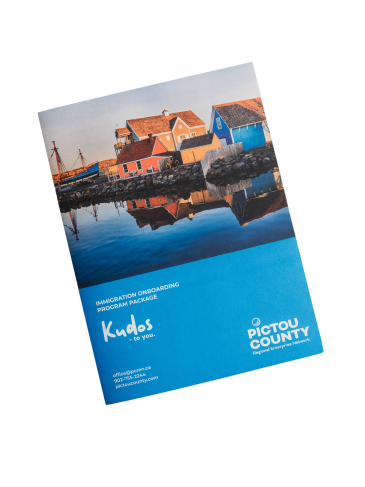 Being immigration ready means that when you can't fill a vacancy locally, you are ready to consider applicants with international skills and talent. You are prepared to support qualified candidates through the immigration process if required, along with providing some settlement supports such as an introduction to the YMCA Centre for Immigrant Services Pictou County or using your local connections to help find initial accommodation options.
In a competitive labour market, you do not want to overlook any qualified candidates.
It is time to include immigration as a tool in your recruitment strategy.
We are here to help!
Resources to support newcomers to the region.
We know that retention is just as important as recruitment. Therefore, we partner with the YMCA Centre for Immigrant Programs to support new hires to our region to be able to better settle in Pictou County.
We have produced a series of resources for employers to use to help with pre- or-post-settlement to the region. Contact us to receive a "welcome bag" for your new employee which includes "A guide to living in Pictou County" and the "Welcome" book. You can also find videos on our YouTube channel that share some of the amazing assets that our community has to offer.
To learn more about our initiatives to support employers in hiring from outside of Canada, please connect with Becky at becky.cowen@pictoucountypartnership.com