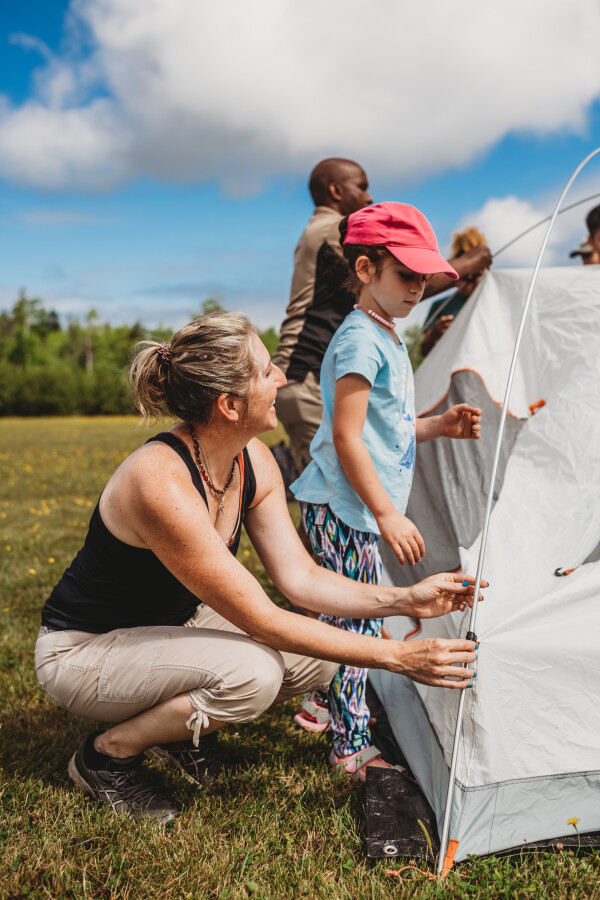 Nature is free for everyone to enjoy and Active Pictou County has been working with newcomers to engage them in all the great outdoors has to offer.
Sally O'Neill, municipal physical activity leader for Active Pictou County, says her organization has been supporting newcomer community integration – and having fun while doing it!
"There's been lots of opportunity to share outdoor and physical activity equipment with newcomers that they may not be as familiar with," said O'Neill during a recent Parks Canada Learn to Camp event held on the grounds of Northumberland Regional High School in Alma.
"For instance, we've had great success introducing people to winter activities like snowshoeing and skiing, and we had a great partnership with the Y Reach program called Welcome Winter and it was all around engaging people in outdoor activity in the winter in a way that was comfortable to them."
They started with presentations on winter clothing and how to be active outside and be comfortable, how to use different pieces of winter clothing, and also where to buy winter clothing at good prices. A thrift shopping trip showed the newcomers that it's important to get proper fabrics and highlighted the fact that they don't have to spend a fortune to have good, comfortable, warm clothes and gear to use in the cold winter months.
"Then we did a few walking conversations, that was part of the winter program, where we would go outdoors and walk and enjoy English conversation."
O'Neill also introduced the newcomers to the municipalities' Equipment Loan Program which makes recreational activities accessible to everyone by providing equipment that is loaned out without any financial or logistical barriers. There is something for everyone of all activity levels during every season. For the summer months there is camping equipment available including tents, inflatable paddle boards and summer activity toys; sports equipment like bikes, canoes, kayaks, tennis racquets, basketballs and everything needed for baseball. There are also adventure day packs that include equipment for hiking, bird watching, exploring nature, star and planet gazing, tree and animal tracks identification, bug collecting, scavenger hunts and more.
In winter there are skates, snowshoes and skis available for loan.
"One of the things we focused on was those foundation pieces. Learning to skate, for example: there are skates available to borrow and there's lots of low-cost and free skating options to enjoy, but if you don't know how to skate you can't participate in that. So we rented ice at local rinks and got volunteer skate coaches and taught whole families how to skate together in a private environment. That was fun and people have been asking about it this year, too."
This summer, O'Neill noted there have been a number of opportunities for people to enjoy hiking and outdoor activities – like the Parks Canada event which had more than a dozen newcomers learning to pitch a tent, tie knots and make s'mores.
"Outdoor activity is a quintessentially Canadian thing; it's something that is so ingrained in our identity and it's what people think of internationally when they think of Canada, and a lot of these things are really low-cost or free. I'm glad to be a part of this because it fits in with a lot of things that Active Pictou County promotes."
Supporting settlement through nature and the great outdoors is educational, easy on the pocketbook and fun for the whole family.