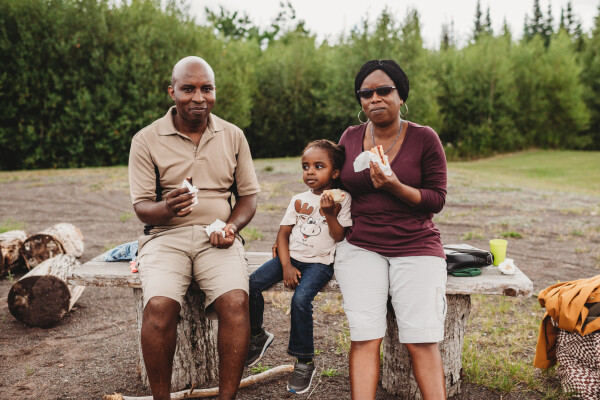 Jean Bosco Rekayo Muhire was a university student in his home country of Rwanda when civil war was raging.
The war broke up when he was finishing his education in public health nursing. He and his wife, Marie Rose, and their daughter Stella, fled to Kenya in 1994 then eventually came to Canada in March 2022.
He came to Pictou County through the Economic Mobility Pathways Pilot and began working as a continuing care assistant at Glen Haven Manor.
And he hasn't looked back.
"I was happy when told about coming to Canada; the government of Canada was assisting us as refugees and giving us an opportunity to get employment and have a life because when you live as a refugee many opportunities are not there. I was excited and eager to come to Canada."
Jean Bosco found re-settlement went easily after he arrived in Canada with his family. "I was so excited because I found that everything was planned for my family. We were given a house to stay in while we were getting to know the Pictou County environment, which was so good. I was happy because I had a house to live in and everything was catered for – it went smoothly. We just had to bring our suitcases," he smiles.
Coming to Canada, he says, was a great opportunity and his family is thankful for it.
"My wife is happy because she now has an opportunity to learn English and my daughter was provided a teacher through the help of the Y Reach who came to our home to teach her and my wife. When my wife goes to study her English at the Y Reach our daughter Stella is taken care of there and another teacher there teaches her. So she is doing fine, my wife is doing fine and I am doing fine at work!"
Resettlement was not difficult, he says, once his family began to learn English. They are very active and love to meet new people. "My wife and I are very social and we didn't have a difficult time getting to know people. For her it was a bit difficult because of learning the English but for me it was good because I had an opportunity to meet people and to play football, tennis, now we have membership at the YMCA. So I am excited. We meet and talk to our neighbour to learn and welcome them into our home. In our church we got to know many people."
Making an effort to learn to speak English helped Jean Bosco and his family and, he says, if he had one piece of advice to give other newcomers it would be to do the same. "It makes life easier to settle."
While it has been less than a year since Jean Bosco and his family have been living in Pictou County, it already feels like home.
"When I started to work I said, now the situation has changed! Now, I have work, I have a home. Now the hesitation time is over! When I worked my first shift, I say, "I am home."